Oscars 2020 Biggest Trend: SUSTAINABLE FASHION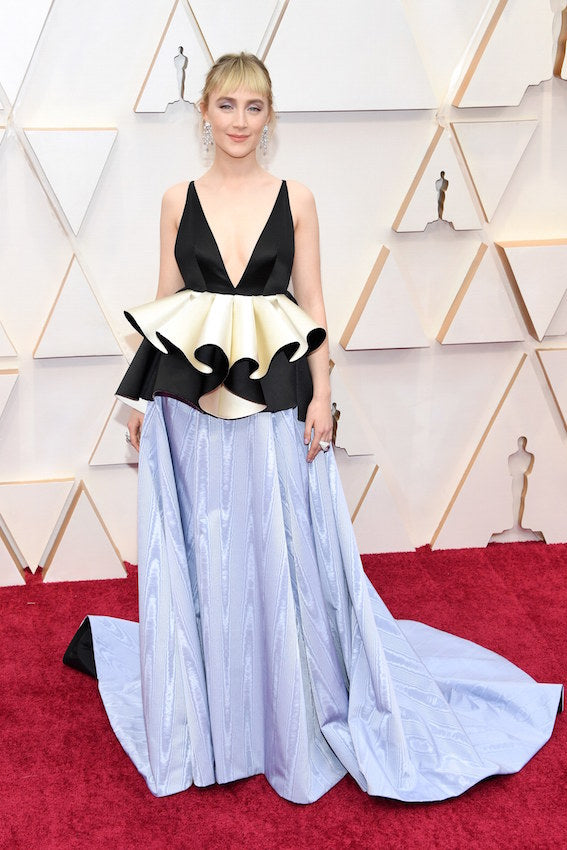 We've been talking about upcycling and sustainable fashion for AGES, so we're happy to finally see some big celebs boarding the sustainability ship! 
Sustainable fashion was one of the biggest themes throughout the red carpet as a whole and everyone can't stop talking about it. Even more so, these starlets proved that sustainability can be sexy!
Let's take a look at some of our favourite sassy sustainable looks. 
1. Saiorse Ronan wore a custom made black and lavender Gucci dress. Gucci repurposed the material from her BAFTAs gown which she wore last week and transformed it into this gorgeous piece. It's a yes from us!
2. "It's gorgeous, it fits… so why not wear it again?" Spoken straight from the horse's mouth and we can't agree more with Elizabeth Banks's choice of red carpet attire. Elizabeth first worse this to the Vanity Fair Oscars party in 2004 and still rocked it the second time around.
3. Kaitlyn Dever supports the Red Carpet Green Dress initiative in a custom made Louis Vuitton gown that is made from ethically sourced and sustainable materials. Kaitlyn is a big supporter of sustainable clothing and encourages her fans to wear more vintage.
4. Ariana Huffington took a lead out of Elizabeth's book and also opted for an old red carpet favourite. She wore the same Valentino dress she wore to the 2013 Vanity Fair Oscars bash.
5. Finally, Olivia Coleman went for the famously eco-conscious brand, Stella McCartney. "The dress was made for Olivia using sustainable velvet and our usual sustainable cady fabric."