Will your wedding be affected by COVID-19?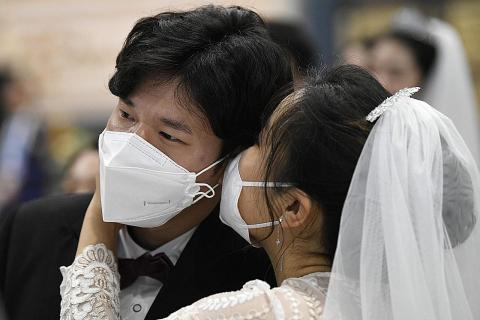 Most brides after their wedding day reveal that something didn't quite go as planned... Usually it's something minor that your guests won't even notice, such as flower arrangements being different to what was agreed or timings being a little off. But during these troubling times COVID-19 is causing havoc everywhere, and the wedding industry is taking a big hit.
With the virus spreading worldwide and showing no signs of stopping any time soon, brides and grooms-to-be are having to alter, postpone or even sadly cancel their nuptials altogether. With so much uncertainty surrounding the situation, one of the toughest things to do is knowing when to step in and start changing your plans, and then the next hurdle is trying to figure out when you should change them to.
Brides and grooms around the world are echoing the same sentiments; worrying for those everywhere, and understanding that during the panic and severeness of the coronavirus pandemic, the misery of their wedding being postponed isn't the end of the world in the grand scheme of things. But understandably it is tragic that what is meant to be the happiest day of their lives might not happen at all.
Currently there are many reasons why it's affecting weddings. Many countries are now in lockdown so even leaving your house is a struggle. Some have issued travel restrictions which can deeply impact guests or even yourselves being able to attend your wedding. Linking with the travel restrictions, most countries are imposing self-quarantining rules for anyone who has travelled to help prevent the spread. Or some states/cities have issued bans on large gatherings and advising social distancing, so even if your wedding is local you could still be affected.
This is just a few of the difficulties couples are facing in these tough times. But there is help available to assist you in these times of need. 
Wedding website The Knot is offering a 24/7 hotline to help couples navigate the crisis. A representative told Today.com that they had received more than 100 calls, 3,000 Instagram comments and hundreds of DM's in one night alone. (You can call at 833-998-2865 or email at help@theknot.com).
What to do if your wedding is in the next 8 weeks
Most countries have implemented a variety of social distancing measures to help contain the spread of COVID-19 so going ahead with a big white wedding could be tough. For example, in the United States the CDC has officially recommended to cancel any weddings within the next 8 weeks and Italy has banned all public gatherings including weddings until at least mid April. 
If you are finding yourself in this situation there are options available. If you have a wedding planner they will do their utmost to help you re-plan your big day and help ease the load of contacting vendors to reschedule. Even if you don't have a wedding planner, it's not too late to get one if you are finding it overwhelming or don't have the time to reach out to everybody involved. 
Also, we've been hearing on the grapevine that most vendors are being very understanding in these times of need and are accommodating couples in changing dates with no extra fees. We can't guarantee that for everyone, but we're happy to be hearing positive stories so far. 
My wedding is in the summer, what should I do?
Unfortunately, there isn't a right or wrong answer in this scenario. Most doctors and scientists have agreed that the virus will peak over the next 8 weeks and then declining thereafter. Which concedes with the rest of the world being approximately 4-8 weeks behind China, who are now recovering from the virus and have more and more people in recovery and even starting to reopen shops again. 
With this information in mind it seems that a summer wedding should still be possible, but we would advise to closely monitor the global impact it's having and make your best judgement from there in the near future.
If your wedding is planned internationally
Due to the travel restrictions most countries are imposing, if you have a destination wedding planned in the next 8 weeks it is sadly looking unlikely it will be able to go ahead for fear of; 1. Not being allowed in the country; 2. Having to self-isolate for 14 days on arrival; 3. Having to self-isolate on return to your home country.  
This all depends on the country you have decided to marry in and we advise to check their government website before making plans on what to do. However, with the rate that COVID-19 is spreading, it would be advisable to postpone if you are planning on marrying within the next 8 weeks. 
Should we still do the legal ceremony?
Some couples are choosing to still get married legally now and saving the big affair for later. Solemnizers are usually flexible with locations of where you want to marry and we've heard some happy stories over the past days of couples still going ahead with a small intimate wedding. 
One happy story we have heard are two newlyweds who opted to postpone their main event to help prevent any spread but had a small, casual wedding instead which even included their adorable pet dogs!
If you're waiting on, or shopping for a dress
According to the American Bridal and Prom Industry Association, 80% of bridal gowns are manufactured in China. For this reason some boutiques are experiencing delays in their shipments. We have an experienced team of tailors local to us in Singapore so we are happy to say we are running business as usual (unless there are any severe changes to impact this). We are doing our utmost in taking careful hygiene measures to ensure the safety of both our staff and brides. We are sanitizing the studio daily and limiting our number of appointments to be cautious. 
If you've just started looking for your dream dress, we do advise to give boutiques more time than normal when ordering your gown to ensure you receive it in time. Currently shipment dates are being pushed back from 14 weeks to 20 weeks - and that's changing weekly. 
We hope you are all well and taking care in these concerning times. Despite this troubling situation we are all in, it's heartwarming to see how many caring and considerate people there are in this world and that we are all looking out for one another.

Stay strong, we can get through this together.
With love, 
Elizabeth Grace & The EGC Team xo