Inside Ellie Goulding's FOUR Dress Changes At Her Royal-Style Wedding… But Could She Have Worn Just ONE?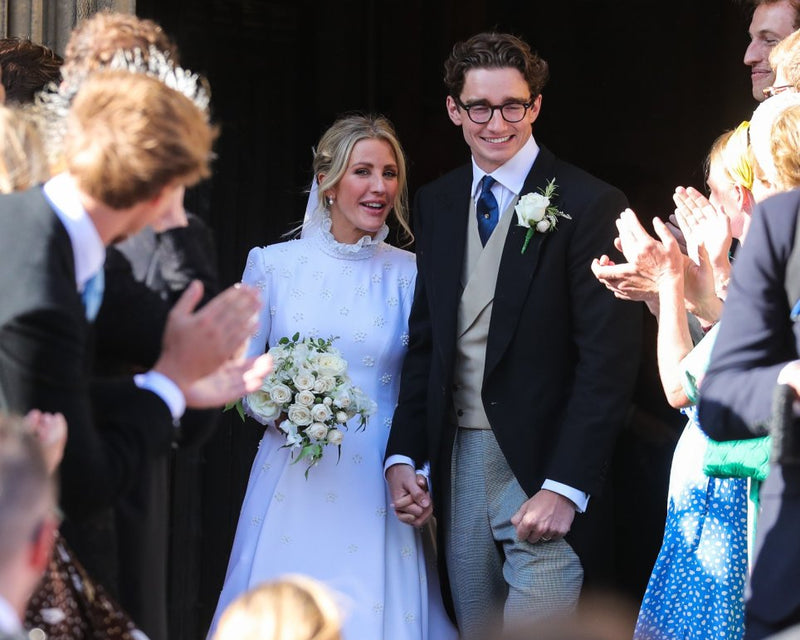 Ellie Goulding and new husband Jaspar Jopling have taken over the news for the last few days with their lavish star-studded wedding, and down at Elizabeth Grace HQ's we haven't been able to keep our eyes off her stunning dresses!
And now the full details of the luxurious bash have finally been revealed and it turns out Ellie changed into a whopping FOUR DRESSES on her big day!
But… we're wondering if instead of buying four different gowns, could Ellie have chosen one transformation gown that could have given her multiple looks without all the hassle of changing four times??
Let's take a peek at her dress extravaganza…
1
Ellie started off with a traditional high-necked Chloé gown that apparently took 640 hours to make!

2
She next swapped it for a tight, off-the-shoulder Stella McCartney number. (Which everyone is commenting on how it reminded them of Meghan Markle's iconic wedding gown…)

3
Her third outfit was a heavily beaded capelet from Ralph & Russo over a white skirt, matching it with a sparkling headband for the evening.

4
She then finally changed into a stylish mini dress from Balmain with rounded tulle sleeves.

We are LOVING all these looks but can't help and think that all these outfit changes must take up a lot of precious time that you should be spending celebrating?
Well, we've figured out the solution to this problem…

TRANSFORMATION GOWNS.
This is the ideal way to show off maximum looks for a fraction of the time and cost of buying multiple gowns – the new, modern era of bridal.
Here is just one example of our Elizabeth Grace Couture gowns, which can help you achieve several looks on your big day.
Take a look at our Ever After 3-Piece Set below and see for yourself how by wearing this 3-piece set you can keep your guests captivated and even wear the premium body suit again!
We'd love to hear your thoughts on transformation gowns and whether you would wear one?