Here's What a Dream Wedding Photo Shoot in Bali Looks Like… And Tips on How to Plan Your Own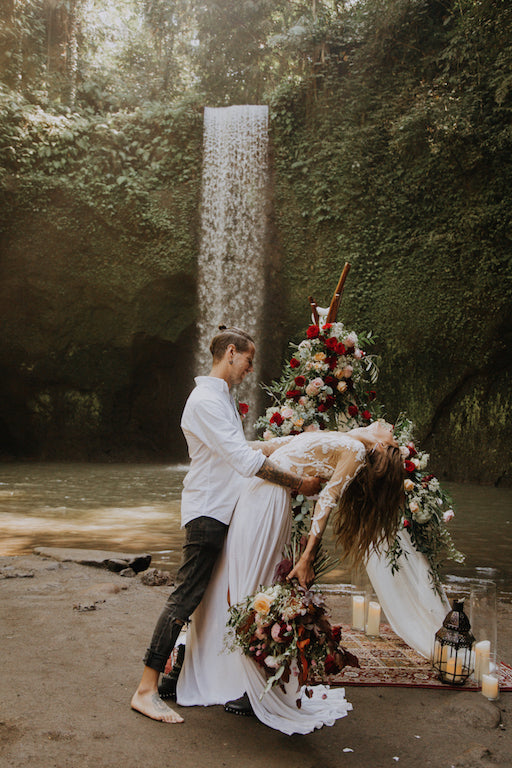 Bali is on almost everyone's list for their dream wedding location. But not only is it a great spot to marry, it's also ideal if couples are looking to do a pre-wedding photo shoot to get those intimate snaps of you and your soul mate to treasure for the rest of your days.
Recently, team EGC set up a wedding photo shoot to show our brides just what they can do there...  
Location, location, location...
Firstly, you need to find your ideal location for your shoot. Bali has a never-ending plethora of stunning spots to choose from so the only hard part will be deciding which one!
Our shoot took place at Tibumana Waterfall in Bangli which is just a short drive from the famous Ubud. 
Setting the Scene
The next thing to think about is setting the scene. If you're looking for some alternatives to traditional décor, one of our suggestions would be a cozy elopement picnic scene. Picnics are a perfect way to have an intimate celebration with your partner without too much fuss or planning.
All you need is a soft blanket, a few candles and of course your favourite assortments of foods and drinks and you're well on your way!
However, if you're looking for a completely stress-free planning experience, there are plenty of companies that will arrange an elopement picnic for you. Whether it's just for décor or part of your reception celebration, here are our contacts who created the amazing scenes for our Wild Lovers photo shoot: 
Bali based wedding planner:
@varawedding
www.varawedding.com
info@varawedding.com
Bali based wedding decorations:
@silverdustdecor
www.silverdustdecoration.com
info@silverdustdecor.com
Bride style
You'll also want to make sure you're dressed appropriately for your tropical elopement. Bali is very hot and humid so we would recommend something light and airy. Obviously, here at Elizabeth Grace Couture we can help guide you in choosing your ultimate Bali bridalwear!
Our beautiful model is wearing the "Vivien" Elizabeth Grace Couture 2-piece set. The "Vivien" tunic is available for made-to-measure and can be specially made into a bodysuit or whatever fits your needs. It's made from a lightweight mesh which is extremely soft to touch and will help keep you cool in tropical climates. She is coordinating it with one of our silk, double split skirts.
Both are available on the Elizabeth Grace Couture website or if you would rather come to the showroom and try on yourself, don't hesitate to make an appointment here.
Get snapping
Finally, you'll need a great photographer who will help create your vision so you'll have some intimate photos that will last a lifetime. Check out our collaborators below.
Photographers available worldwide:
@wanderlustdreamco
www.wanderlustdream.co
info@wanderlustdream.co
Did you get married in Bali? We'd love to hear where and see some pictures! 
Email us at Elizabethgracecouture@gmail.com with your Bali wedding pictures and we'd love to feature them on our instagram! 
LOVE
xoxo