The Newest Edition to the Elizabeth Grace Couture Collection - The "Sunset Star" Gown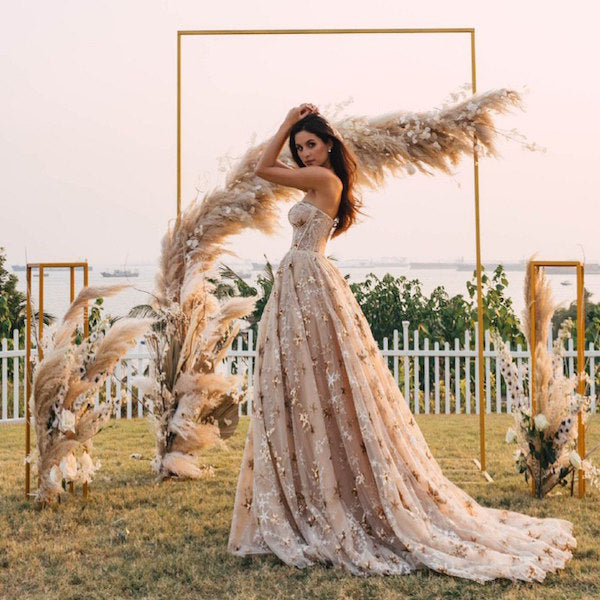 The newest edition of the Star collection is out

AT LAST

. 
We're so excited to be bringing you the second edition of the "Star" collection. Feast your eyes on the gorgeous "Sunset Star" gown. 
Recently modelled by Singaporean influencer, Sonya Davison, at our beautiful sunset photo shoot in the grounds of Panamericana, based on Sentosa Island, Singapore (a great venue for your wedding or reception!).
You might remember the original "A Star is Born" as worn by three very different but equally stunning celebrities who all gave their own twist on the gown. Let's look back and see how they all wore it...
Katharine McPhee; Songstress and leading star of London's West-End hit, The Waitress. She wore a cropped version of the gown and added some sex appeal by adding a red lip and a pair of sparkly heels.

Tilly Keeper; English actress known for her role as Louise Mitchell on BBC Soap Opera, Eastenders. Tilly looked simply angelic in the Star gown with her blonde locks cascading down her shoulders and minimal accessories. 

Steph Adams; International author and accomplished name within the fashion and publishing industries. Also opting to add a red lip for a more sultry look, Steph looked radiant in our gown and partnered it with a pair of dangly pearls.
   
From left to right: Tilly Keeper, Katharine McPhee & Steph Adams
Due to the growing success and the attraction of celebrities wearing it down the red carpets, Elizabeth has created a gown that is one step up so you can truly look like the princess you are.
The "Sunset Star" gown is available in two options;
Standard - $2,500 (SGD)
Add optional tulle overskirt - $3,000 (SGD)
And is available to rent - $500 (SGD)
The skirt is made from layers upon layers of a luxurious embellished tulle, whilst the bodice is structured with boning throughout the waist and cups to keep you fully supported. It also features a corseted back which delicately shows off the female form.
Now, the pièce de résistance is the hidden LED lighting which is carefully lined throughout the bodice and skirt, so yes, you can LIGHT UP the room! Literally. Perfect for those who want to channel their inner princess and create a dramatic entrance. 
The "Sunset Star" is available for both purchase and rental so it's perfect for a pre-wedding photo shoot or to wear on your big day.
Check out the collection for more details or book an appointment at the Singapore showroom here.
Photoshoot Credits:
Model: @sonyadsanchez
Venue: www.panamericana.sg
@panamericanasg
Photography: https://www.wanderlustdream.co
@wanderlustdreamco
Suit: www.johngracesuits.com
@johngracesuits
Florist: www.kesedcreates.com
@kesedcreates
(with help from @itsprettywild)
Props & Arch: www.fellowfolks.com
@fellowfolks