Happily Ever After... The Dress That Lives On With You Forever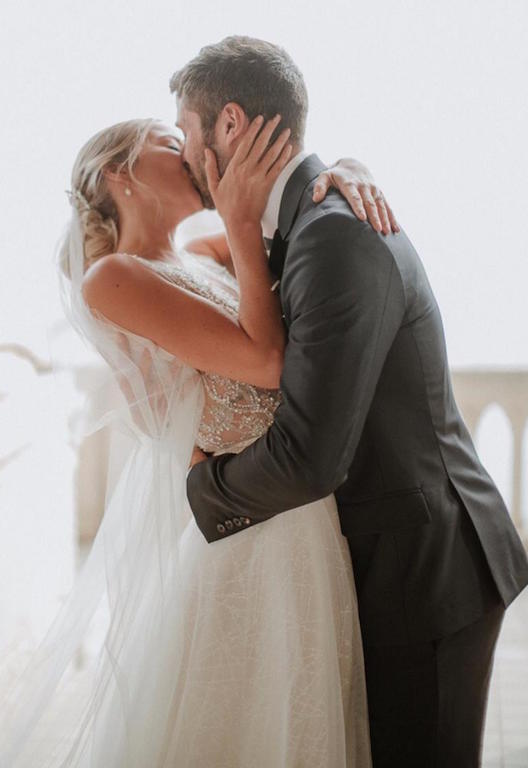 You may know Brie Benfell as a fitness influencer and founder of BrieFit, or as a Disney Princess, or you may even know her as the woman who travelled across the world to meet her husband-to-be for the first time (**we'll explain that later).
But in April 2018, Brie met our Founder & Creative Director, Elizabeth Grace, for the first time to help design her wedding dress of dreams.
Brie is the ideal customer for Elizabeth Grace Couture as she fits our motto perfectly – she is definitely what we would call a Castle Builder. Here at Elizabeth Grace Couture HQ's we believe that life is the only fairytale you are in control of and not to rely on other people to make it perfect. Therefore, we build our own castles and fulfill our own dreams. It's going from "I can't" to "I can". 
With that in mind, Brie and Elizabeth had the same vision of creating a dress not for the traditional bride, but for the modern day bride. Like Elizabeth, the thought of spending all this time and effort of designing a wedding dress to only wear it once upset Brie, so the pair ended up designing the "Ever After" 3-piece set – the ultimate transformation gown.
"The most important gown of your life shouldn't be worn just once..."
The "Ever After" 3-piece set consists of;
1. A sheer, iridescent bodysuit showered with diamonds;
2. A billowy tulle skirt, which is perfect for the day;
3. A sleek silk-satin skirt for the evening.
Pictures: Brie Benfell modelling the "Ever After" 3-piece set.
Not only was Brie able to transform her look on her wedding day with ease, she is also able to keep the wedding spirit alive by wearing her bridal bodysuit again and again for years to come.
During the design process, Brie liked the idea of the bodysuit being a bridal swimsuit, however due to the delicate nature of the beading, Elizabeth suggested it should be a bodysuit that she could wear again on her anniversaries.
This idea shows just how versatile bridal separates can be…watch this space for bridal swimsuits? ;)
Where we offer a made-to-measure service, our brides have the opportunity to design their own gown alongside Elizabeth so they aren't limited to a brands specific collection and they can see their visions become a reality. We love seeing each bride's unique approach. 
The Wedding...
Brie and her now husband Matt whisked themselves and their nearest and dearest away to a remote island in Italy for their stunning castle wedding – she truly created her own fairytale. And not only with her wedding day, but in life as Brie is constantly challenging herself to new heights.
From model to entrepreneur, she has launched her own events company, Ever After Events, and built her own empire as a fitness influencer.


Pictures: The gorgeous Italian castle Brie and Matt whisked their family and friends away to.
**Now as promised, the explanation!
Brie and Matt grew up in the same small village in the English countryside, even going to the same school which was where he first caught Brie's eye – but never actually properly met in person until years later on the other side of the world!
During and immediately after those school years they never spoke, until Brie featured on a popular TV show where Matt recognized her, leading him to get in contact through Facebook thus starting their online romance. They tried to meet up for years but to no avail as they had both moved to different countries. Until eventually, Brie bit the bullet and flew the other side of the world from L.A. to Sydney where he was living to finally start their fairytale romance!**
They were together for 3 years before getting engaged in the same spot they first met – Sydney International Airport.
Skip a few years and they are now happily married and living in Singapore.
Here are just a small selection of the stunning snaps from Brie and Matt's enchanting day...
 One Year Later...
Now a year later on their anniversary, Brie and Matt are renewing their wedding vows so she is back at the Elizabeth Grace Couture showroom getting some tailoring done to wear alongside her bodysuit for the event. This was the idea both her and Elizabeth had in mind when creating the bridal set so she can relive her wedding every year of her life in her "Ever After". 
This year she has opted for a white long-line blazer with a matching white skirt to compliment the iridescent qualities of the bodysuit, and a pair of sparkly heels.
What will she partner it with next year?
The versatility of bridal bodysuits is never ending, so we are excited to see what she wears it with next!
Video: Brie Benfell wearing her "Ever After" bodysuit again on her anniversary whilst renewing her wedding vows. She has partnered it with an Elizabeth Grace Couture tailored blazer and matching tailored skirt.
We encourage our customers to book in with us for a free design consultation anytime after their wedding so we can show them how they can wear their wedding set again – whether it's coordinating it with other items of clothing or getting your wedding gown re-tailored into a whole new look.
Click here to book your free design consultation with Elizabeth Grace.
Customers at Elizabeth Grace Couture are for life, not just for a day.