Christina & Ben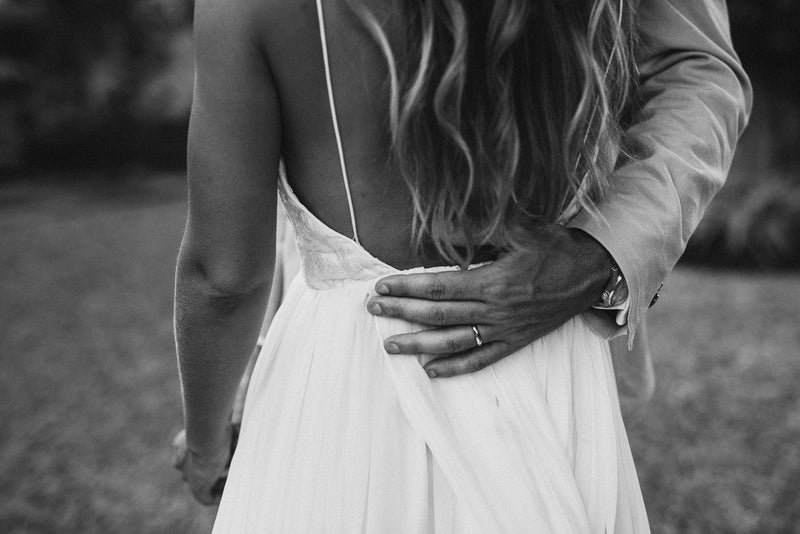 Christina & Ben 
1. Why did you choose Elizabeth Grace Couture for your wedding gown?
I went wedding dress shopping originally as I thought it would be so easy to find a 'simple Boho dress'. But in the end it was a bit of a nightmare and everything was just too ornate and over the top. However, the fittings did help me see what styles suited me, and so when a friend suggested having it made in Singapore and recommended Elizabeth, it seemed perfect. By that stage I sort of knew what I was after and loved the idea of having one of a kind dress made. Plus I loved the dress she made for my friend and was the sort of Boho look I was after.
3. Would you wear/use your wedding dress and/or accessories again? 
No, I don't think so. However, I've given my dress back to Elizabeth Grace Couture as a part of their "Love, Wear, Share" scheme. This means that Elizabeth will resell the garment as "pre-loved" on my behalf. Or even rent it out to new customers.
4. How did he propose? 
Ben proposed on a beach in New Zealand. We were there on holiday and driving along south islands east coast road, when he was adamant we had to stop at a beach for a swim. Despite being summer, there was no way he could get me into the 'freezing' sea for a swim with him. He said after he needed to go for a swim to calm his nerves! When a giant seagull tried to swoop in and fly off with the ring (which he had left hidden on the beach) he figured it was the time! And so ran out of the sea, dropped onto one knee and asked me to be his wife. It was sort of funny and romantic at the same time, which was perfect.
5. Where did you get married and why? 
We got married in Barbados, which is where I was born and am from. We had the ceremony in my family home which was just so special. 
6. What was the hardest part of planning your wedding? 
Being so far away. As I live in Singapore currently, the whole wedding was planned by my mother, who did an excellent job. In fact, she did a better job than I could have done and so in fact I was very lucky!
7. What was your favourite part of planning your wedding? 
Getting excited about having all of my family and friends from all over the world in one place. That was actually the best part of the wedding itself. It's an amazing feeling.
8. What wedding preparation advice would you share to future brides? 
Don't worry too much about every little detail. I can't say I worried too much at all as my mother had it all under control, but also made a conscious effort not to, as have seen friends previously get very stressed about all the little things, and on the day think they can often be missed. 
9. What does Elizabeth Grace Couture stand for to you?
Beautiful quality dresses with a lovely bespoke service. Elizabeth herself is also lovely and makes the process enjoyable.  
VENDORS
DRESS: 
Elizabeth Grace Couture "Arlo" Gown
GROOM'S ATTIRE: 
Massimo Dutti / M&S
PHOTOGRAPHER: 
Gina Francesca Photography
VENUE:
 Rockley, Barbados (my family home)
FLORIST:
 Simply Flowers
MAKEUP: 
Ally_Babs (my sister in law)
HAIR:
 Anya Wiles Hair
CATERING:
 Scotts Catering
EVENT PLANNER:
 Lauritta 
Voss
 (my mother)
DJ/BAND: 
VSOP (my fathers Dixie Land Jazz Band!)